All-round protection.
Needless to say, the smart fortwo electric drive shares the smart fortwo's innovative safety concept.
Active and passive safety systems offer maximum protection for the minimal length of 2.69 metres. As part of the smart safety concept, the lithium-ion battery is housed in an optimal position in the vehicle underbody.
---
tridion safety cell. Sturdy, rigid and tough.

The tridion safety cell is additionally reinforced with high-strength steel sheets at strategically important points - for maximum stability, rigidity and strength. The impact energy is distributed evenly over the longitudinal and transverse members and thus reduced effectively.
Safety features.
Battery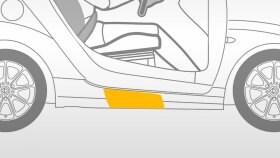 The positioning of the battery in the vehicle underbody offers the best possible deformation protection in the event of a collision. The battery's low centre of gravity also noticeably improves the handling and driving dynamics.
Crash boxes.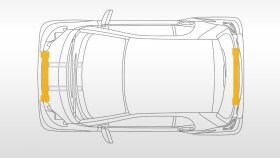 Steel deformation elements at the front and rear absorb the energy from minor collisions at low speeds, and ensure that the tridion safety cell itself remains undamaged. A damaged crash box is simple to replace.
The wheel as a deformation element.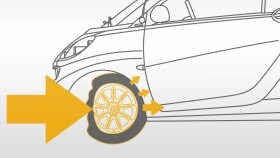 In a head-on collision, the front wheel is supported by the side member, thus absorbing a substantial proportion of the impact energy. The short wheelbase means that the other vehicle involved in a side-on crash will almost always hit the wheel and the suspension components behind. This ensures that the passenger cell remains virtually stable, so that the doors can still be opened easily after a side-on collision.
Airbags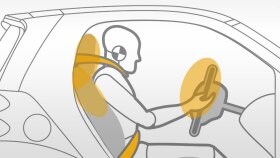 Two full-size front airbags offer maximum protection for driver and passenger in the event of a frontal impact. Standard in the smart fortwo electric drive, the head/thorax side airbags afford additional protection for the head and chest in the event of a side-on impact. Additional safety is offered by the robust steel door structure.
The wheel as a deformation element.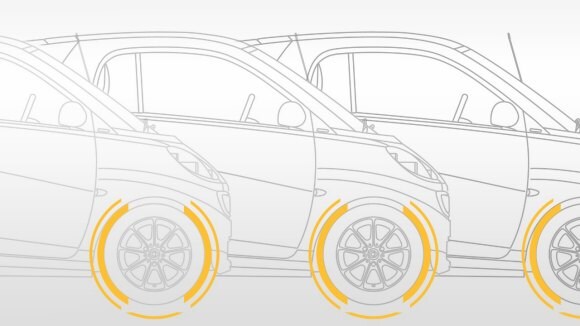 abs and esp® safety systems.
When the vehicle is in danger of skidding, the electronic stability programme (esp®) brakes specific individual wheels in order to prevent the car from breaking away. The anti-lock braking system (abs) ensures that the vehicle remains steerable and stays on track even when the brakes are applied heavily.