smart add-on: to make urban living even better, every smart fortwo comes with convenient extras.
smart is always doing big and little things to make our cities better. And living in them more enjoyable. We don't stop there, though. What if you travel to other cities by rail, bus or plane? We're still there for you when you arrive. What if you temporarily need the extra cargo space of a larger vehicle? We'll help you carry the load.
What if you'd like parking that rewards you for driving a city-friendlier car? Yes, we have a nice little solution for that, too. So what's the idea behind every smart add-on? To make owning a smart fortwo a total urban pleasure that you can feel good about every single day. And there's much more to come. Join us on Facebook to get the latest smart add-on updates.
---
Parking.

Small Space. Big Advantage.
One of the big advantages of your new smart fortwo is that it takes up a lot less space when you park. So why pay for all that unused asphalt? Instead, park at our special sized, dedicated parking spaces at reduced rates.  Plus all recreation centers and city municipal halls have electric vehicle charging stations free of charge.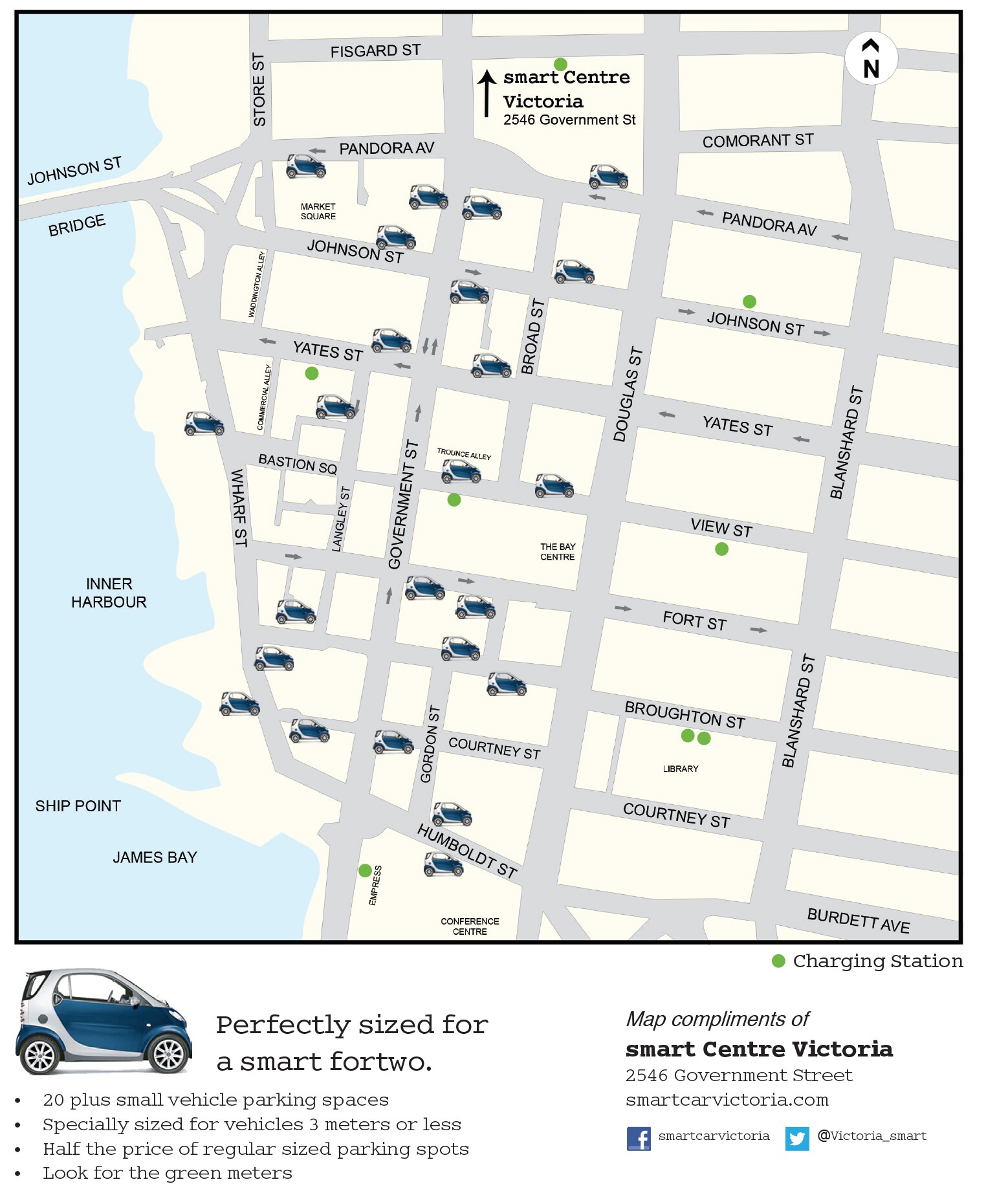 ---
smart add-on renting.

Extra cargo. Easy solution.
Of course your new smart fortwo is absolutely perfect for everyday urban mobility. But say you need to move bigger stuff, like sofas or for those visiting relatives. No problem, because we've arranged a special deal for you at Enterprise that can include an automatic upgrade to Silver membership in Enterprise Plus and bonus points toward free rental days. Handy. But after you've driven a minivan full of noisy sightseers, you'll appreciate your smart fortwo even more.
Attractive: Daily discounts.
Flexible: 24-hour reservation capabilities and guaranteed reservations
Convenient: Over 500 Enterprise Rent-A-Car locations across Canada
Exclusive: smart fortwo owners, new and existing, can automatically update to Silver status once enrolled as an Enterprise Plus member!
Register now and receive exclusive benefits!
Owners (2004 to May 31, 2013 smart fortwo/ebike owners).
Existing owners are eligible to receive a Silver tier membership* when they enroll in the Enterprise Plus program, allowing them to:
receive reduced rates in Canada & the US (including Hawaii & Puerto Rico)
earn 10% more points on future rentals
New Customers (customers that purchase a smart fortwo or ebike from June 1, 2013).
New smart owners who enroll in the Enterprise Plus program will receive a Silver tier membership preloaded with 2100 points. Points don't expire and they can be used towards the rental of any car on any day.  
*Your eplus membership will be upgraded to Silver level membership within 72 hours.
For more information on Silver tier Enterprise Plus membership, please click here
For more information on rental bookings, please visit the Enterprise Rent-a-Car website at www.enterpriserentacar.ca
---
smart add-on sharing.

Different city. Same convenience.
When you travel to other cities, you may want to pack your smart fortwo in your carry-on. Yes, you can become that attached. Instead, we'll provide you with a free car2go membership to access their smart fortwo fleet that's parked and waiting for you. Drive one wherever you want to go, then park and that's that. But you won't be tempted to bring one home because yours is already there, missing you.

Attractive: car2go is a specialized car rental service for smart car owners travelling outside of their home cities
Flexible: All smart owners are guaranteed rental service in any and all Canadian car2go locations
Convenient: car2go includes a fleet of over 800 smart fortwos in Vancouver, Calgary and Toronto
Exclusive: The smart add-on feature provides all smart fortwo owners with a free membership to car2go, and specialty car2go parking spots in city centers
Sign up now!
Visit www.car2go.com and select the Canadian city you want to be your home area.
Then click on BECOME A MEMBER to fill in the Registration form.
Enter "smart" in the Promo Field.* You will receive your membership card in the mail, usually in 5 to 7 business days, and then have access to the network of smart fortwos.
Go explore the city!
With the car2go smart add-on, you can enjoy more of the urban experience at great cities across Canada.
*In Vancouver, driver abstract from ICBC is required.